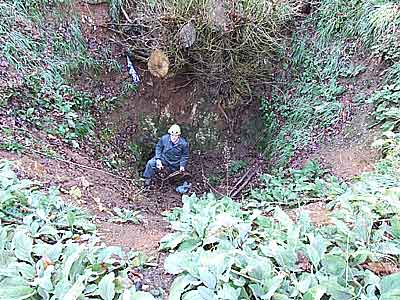 17th December Work started on this dig. An aerial cable was placed across the hole using the fence posts for support. A second lifting cable and ingenious pulley system was hung below this to enable the bucket to be raised and then moved sideways.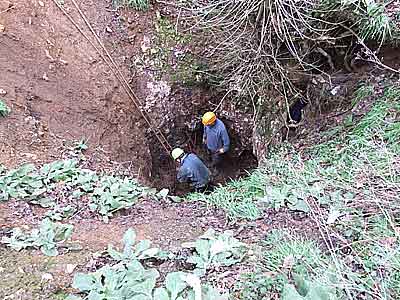 28th January After another early start 2 members who wont be named decided to take the exercise and walk the 'short' way across the fields to the dig. Unfortunately they took a wrong turning somewhere and ended up going completely the wrong way. They arrived about 1 hour after they left the car park. Progress was slow because the excessive amounts of wire in the hole and we even had to resort to using a car to pull it out. We didn't get as much done as we would have liked to but we think we can now see the top of the chamber.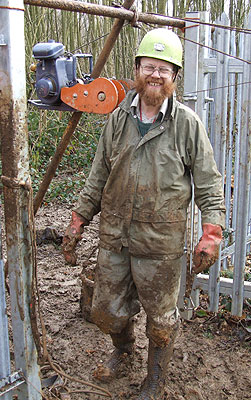 25th February Work continued and good progress was made despite the weather. We managed to remove lots of wire along with many old logs from the hole. At the end of the day the top of a small chamber was visible.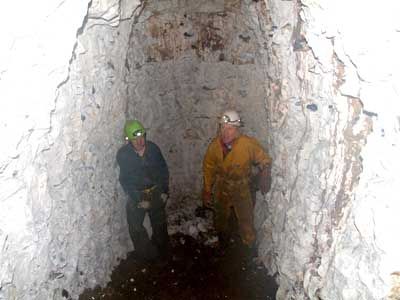 25th March Despite a promising start the top of the chamber visible last time has so far been a bit disappointing. Although just big enough to crawl into it seemed to be very small and almost entirely back filled. However after several hours of digging a small entrance was found about 120° from the small one. Clive was the first to enter and explore this, despite an initial concern about the quality of the air. The chamber turned out to be larger then expected and unusual in design as it turned through 90°. This chamber is about 20′ long by about 6′ wide with a height of about 10′. There is another small chamber off the back of this which looks as if it may connect to the small chamber first discovered. For more pictures click here.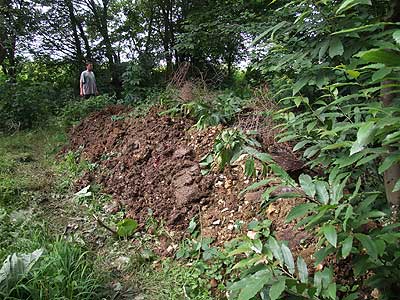 15th July It was amazing to see just how much growth had taken part since we last visited. Nature seems extreamly keen on reclaiming the hole and the surrounding area. Despite further digging the only thing we found was a mouse in one of the holes made to probe for the third chamber. After some deliberation it was decided to persue the dig no further. The bats will have to make do with a single chamber. The picture shows the spoil heap from the dig. For more pictures click here.