History: The Crossness Pumping Station was built by Sir Joseph Bazalgette as part of Victorian London's urgently needed main sewerage system. When the buildings were abandoned, the pumps and culverts below the Beam Engine House were filled with a weak sand and cement mix to reduce the risks from methane. We are helping the trust to remove some of this mix and explore some of the old tunnels.
More information on the Crossness Pumping Station can be found on their website http://www.crossness.org.uk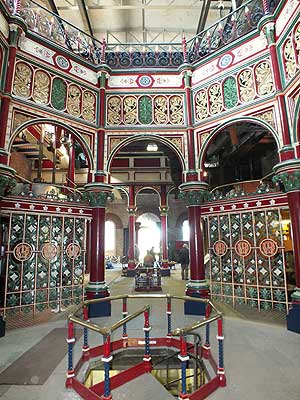 ---
19th August Work started on helping, the group who are engaged in the restoration of the engines, in removing sand from one of the cylinders and a tunnel.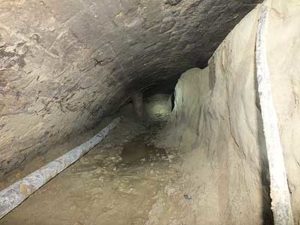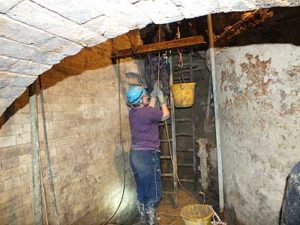 14th October Work continued on digging out the tunnel, until the daily influx of water, and on the area below the piston. Digging was halted around lunch time to enable us to hold our AGM in the canteen.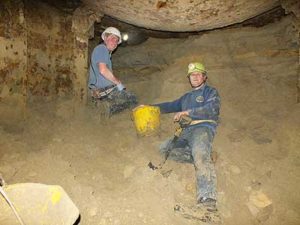 14th October After lunch we concentrated on emptying the area inside the piston. 2 people inside the piston filling the buckets, 2 people man (and woman) handling them to the ground and then an electric winch to raise them to the surface, where we used wheelbarrows and a dumper truck to dispose of the spoil.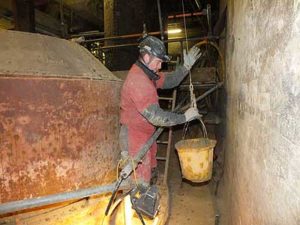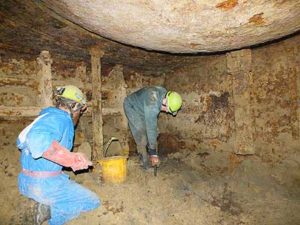 17th February Work continued inside digging in the area below the piston, The outlet valves can be clearly seen at the back and we are in the process of uncovering the inlet valves in the bottom of the chamber. It's a good job that we have a fan to provide fresh air as it was getting a bit smelly at the bottom.
17th February Outside we are digging a hole which we hope will eventually lead through an arch and into the filth hoist chamber. Work is tough going even with a kango hammer as the infill here is much harder than inside.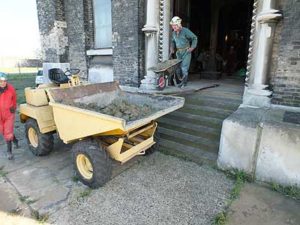 17th February Having a dumper truck to take away all the spoil is very useful, even if we have to barrow it out to it.
17th March Work continued on emptying the area below the piston and we had just finished this when a break through was made in the hole outside. Lunch was temporarily put on hold and a ladder found to investigate.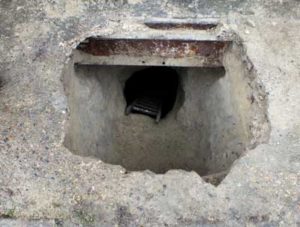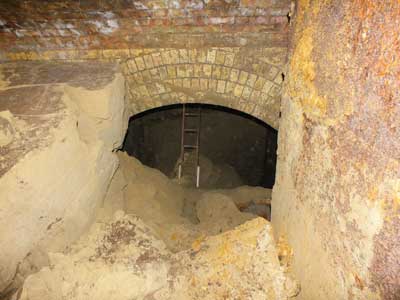 17th March Descending down into the Filth Hoist Chamber we found that the infill had settled / washed away leaving ample room for us to enter and investigate. The photo on the left shows the Filth Hoist bearing whilst the photo on the right is looking out from the Filth Hoist chamber. The archway is under the main building foundations and the rusty metal on the left is the flywheel casing .
14th April Although we expected to finish things off on the last visit we ran into some problems in our efforts to get to the base of the flywheel housing. As we lowered the level of the sand we opened up an easy route for the water in the outside access chamber to drain through into our workings. As a result we will have to shore up the excavation as we go.
14th April On inspection we discovered that the area between the flywheel casing and the flywheel is full of debris and we are investigating the best way to gain access into the space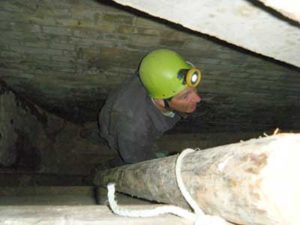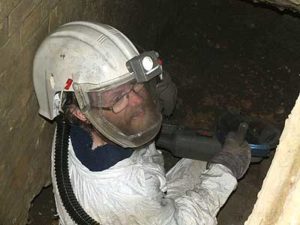 26th May Due to the confined space we were working in and the dust & fumes a fresh air supply was necessary. This home built blower and helmet was more than up to the task.