Members of the group have numerous years of experience in the exploration, excavation, research and surveying underground features. There are usually members available as most times should urgent assessment or recording be required, with the ability to cover Kent, East Sussex and South East London or possibly further afield.
We are a member of the National Association of Mining History Organisations (www.namho.org), and all our members have Public Liability Insurance.
---
Recent projects include:
Investigation of sand mine near Bearsted
Re-excavation of an Iron Mine in East Sussex
Surveying abandoned chalk mines in Broadstairs
Excavation of Swallets in Chilham
Exploration of an abandoned reservoir
---
We also:
Keep a database of sites
Can provide speakers for meetings
SRT (Single Rope Technique) to investigate wells/deneholes/deep shafts/etc.
Carriy out work on behalf of 3rd parties
Archival research
Grill abandoned shafts/adits
Can advise insurance companies
Can survey up to BCRA Grade 5d (see http://www.bcra.org.uk/surveying/index.html for details).
---
Example survey: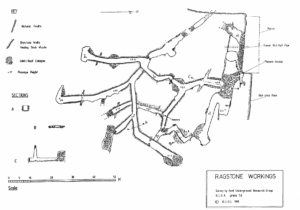 ---
Previous 'clients' include:
Bovis
Maidstone Borough Council
Kent Bat Group
University of Greenwich
Hartley Parish Council
---
To get in touch please see our contact form here
---